Pre-Christmas Sale @ The Framer West End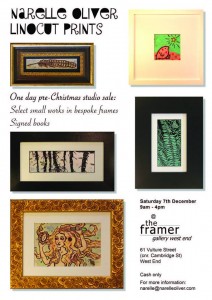 We would love to see all our clients on Saturday 7th of December between 9am – 4pm for a special Pre-Christmas Sale.
Lots of great Christmas gifts (See flyer below for more details).
Also a big thank you to all the friends of The Framer for their loyalty and support in 2013. We will close Saturday the 21st of December @ 2pm and reopen Tuesday the 7th of January 2014.
Merry Christmas and Happy Framing New Year.
Be Safe and Have Fun.
And remember to follow us on Facebook for more specials and upcoming sales in 2014
Cheers
Kerry @ The Framer
& Santa's Helper Nathan.